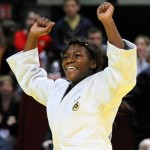 The French athlete of Togolese origin, Clarisse Agbegnenou is since Thursday, world champion of judo in the category of least than 63 kilos. The new title of the Togolese does not only honor her country of adoption. The President of Republic of Togo sent a congratulation message to the champion whom he considers as a model for the Togolese youth.
"This new exploit honors and enjoys your country of origin Togo and represents a source of inspiration for the youth of our country. While the whole world is prasing your talent and your perseverance, in the name of the Togolese people and on my personal behalf, I am sending you my deepest and warmest congratulations", wrote the Togolese president, Faure Gnassingbé to Clarisse Agbegnenou.
Born on 25th October 1992 in Rennes in France, Clarisse Agbegnenou is a judoka in the category of less than 63 kg (welterweight). Before being a world champion in Chelyabinsk (Russia), Clarisse was a champion of Europe in 2013 and 2014. She also won the golden medal in the French championships in 2009, 2010 and 2012.
"Being a World champion today is the greatest thing in my life. I am so happy and in my dream. Thanks to all those who supported me and for those to whom I promised a present for their birthday anniversary, it's done. Thanks to my family, my friends, my lover and surely to the girls of the team", declared Clarisse Agbegnenou on her Facebook Page.
Original text by: Roger ADZAFO
On the same topic: